Flood Control Solutions for Property Owners
Raritan Headwaters Association (RHA) is on a mission to protect clean water in the north and south branch region of the Raritan River. For more than 55 years, our goal has been to protect the water you and your family rely on every day. One of the greatest threats to our water is contamination from stormwater runoff and flooding. Individual property owners can help alleviate these problems.

Even owners of small pieces of property can help prevent flooding through the use of a rain garden. What is a rain garden? It is a low-lying vegetated depression (typically 3 to 6 inches deep) with absorbent soils that temporarily collect stormwater runoff from impervious surfaces and allow the runoff to slowly percolate into the soil.

Large or small, rain gardens should be planted with native plants. As a general rule, any plant described as Japanese, Oriental, English, etc. is obviously not native to North America and should be avoided. In our area, native plant material range from the black gum tree (Nyssa sylvatica) to arrowwood viburnum (Viburnum dentate) and garden perennials such as bee balm (Mondarda didyma), cardinal flower (Lobelia cardinalis) and blackeyed Susan (Rudbeckia).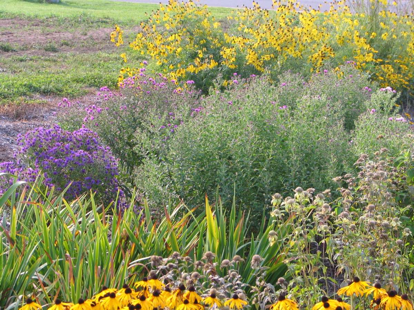 Property owners can also help decrease flooding and pollution through the size and care of their lawns. Rather than striving for a large carpet of green through the use of pesticides and herbicides, consider reducing the size of your lawn by 10% or more and allow your landscape to include more natives. You can take a few simple steps to make your lawn healthier and better able to absorb rainwater when it falls.

• Use an organic, phosphorous-free fertilizer early each spring
• Set your mower to cut no lower than 3 inches
• Water infrequently but deeply
• Use hand tools to remove individual weeds

The best flood protection for a stream, however, is to be surrounded with a good buffer area of woods, shrubs, wetlands, and grasses to intercept contaminated runoff before it reaches the water. The less "groomed" this buffer area is, the more it can perform its normal functions. If you are fortunate enough to have a stream or pond on your property, don't mow within three feet of the edge and allow the vegetation to grow to a height of about three feet. Vegetation allowed to grow along the banks of streams and ponds prevents erosion and the related silting in and flooding during heavy rain events. Steep-banked streams require the hearty protection of shrubs and trees that provide shade, erosion control, temperature regulation, and food sources for aquatic wildlife.

If you are interested in beginning a flood control project like those described here, our website has a wealth of information about each of these options as well as native plant lists, tips for growing organic lawns, and more water protection ideas. Visit www.raritanheadwaters.org, and like us on facebook for more conservation ideas. Join us!
Cindy Ehrenclou,


Raritan Headwaters Association Executive Director

Gardener's Helpline
Hunterdon County Rutgers Master Gardener Helpline provides a service every home gardener can take advantage of throughout the growing season. Garden questions are as inevitable as weeds, and the Rutgers Master Gardeners of Hunterdon are trained by Rutgers University staff, as well as local horticulturalists, to answer questions and assist county residents in a variety of ways.

Helpline volunteers cover a myriad of home gardening issues, including providing the materials and information needed to obtain a proper soil sample for analysis by Rutgers' labs, soil pH testing, lawn care, and plant-, tree-, and shrub identification with advice about the right plant for the right place, recommendations on deer-resistant plants, and disease diagnosis and recommendations for treatment. They can also identify pests, and give recommendations for Integrated Pest Management techniques.

You can phone the Hotline, at 908-788-1339, or e-mail questions. You can also take samples and questions to Building #2, at 6 Gauntt Place, Flemington, from 9:00am-12:00pm, Monday-Friday, and 12:30-3:30pm, Wednesdays.
Tewksbury's Woodlands
A number of resources are available for people interested in managing and preserving our woodlands, in Tewksbury. Stop by the Municipal Offices to request these items (or see the Web links, if available):

• The Community Forestry Management Plan, which applies to the Township's public lands,Tewksbury's Master Plan, Scenic Roads Ordinance (#19-96) and Tree Clearing Ordinance (#07-2002)

• Building Greener Communities: Planning for Woodland Conservation, a manual available from the North Jersey Resource and Development Council Web site (click on "Woodland Conservation Manual")

• Maps of trails and woodland features of the Township's Pascale Farm, or Whittemore Wildlife Sanctuary.

Other information on the Web, includes:
The NJDEP Landscape Project
GIS-based maps showing natural resources in our area
Information about the new "Highlands Water Protection and Planning Act" is available on the NJDEP Web site.